Superficial Spreading Melanoma
This is the most common form of melanoma. Between 70%-80% of melanomas are of this variety, often resembling irregular moles. These melanomas will usually initially grow across the surface of the skin, and are not at risk of spreading and invading other parts of the body until they begin to grow down into deeper layers of the skin. The most common places for these are on the trunk for men and on the legs for women.
Skin Cancer - Mole Images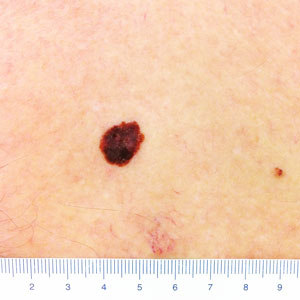 Clinical Image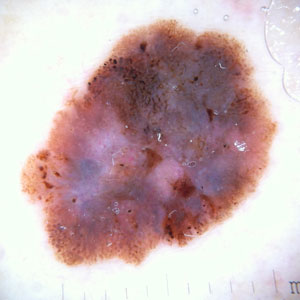 Dermoscopic Image
Nodular Melanoma
This form of melanoma grows quickly, and begins growing deep into the layers of the skin sooner than other melanomas. Nodular melanomas often look like black, or very dark brown bumps or raised spots on the skin. These are often found in the middle-aged population on the chest or back.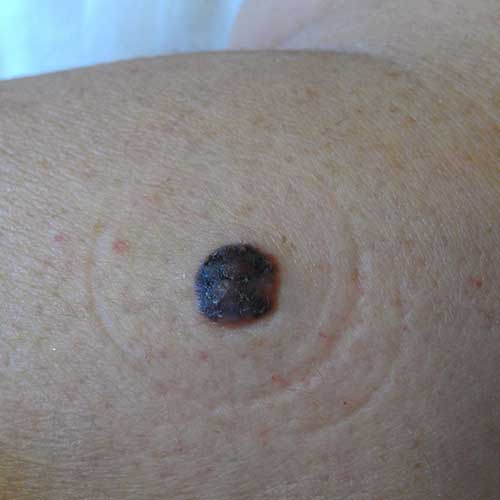 Clinical Image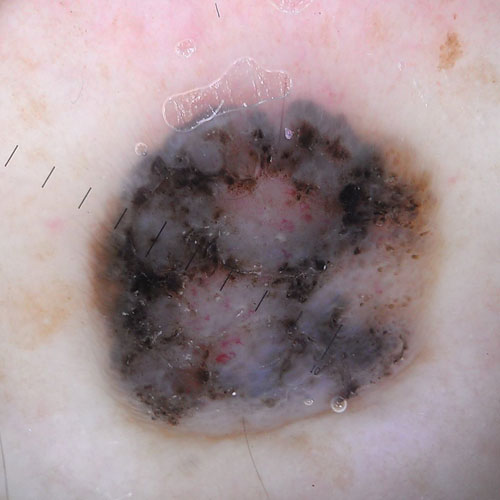 Dermoscopic Image
Lentigo Malignant Melanoma
This melanoma is similar to superficial spreading melanoma, often remaining on the surface of the skin. It normally develops on sun-exposed areas of the skin, thus it is found on the nose and cheeks, and it is more commonly found in outdoor workers and in older people with sun-damaged skin. Of the 4 types, it is the least likely to become invasive and metastasize.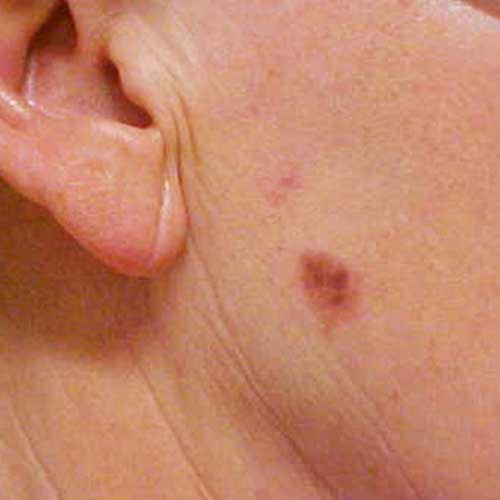 Clinical Image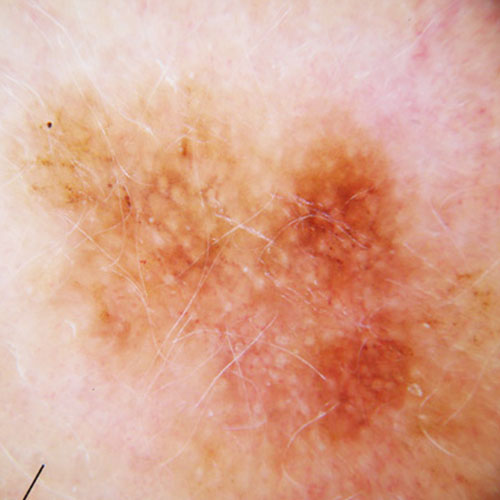 Dermoscopic Image
Acral Lentigious Melanoma
This form of melanoma appears under fingernails, on the palms of the hand or soles of the feet. It begins as a slowly-enlarging, discoloured patch of skin that initially grows superficially, but can grow deep into the skin's layers and become invasive faster than SSM or LMM forms of melanoma. Acral lentigioius melanoma is more common in darker-skinned people, and is often overlooked.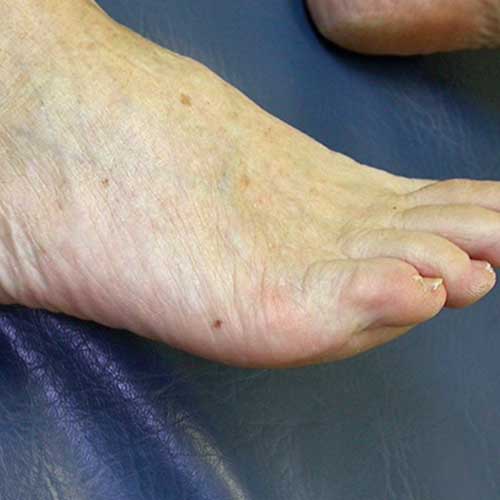 Clinical Image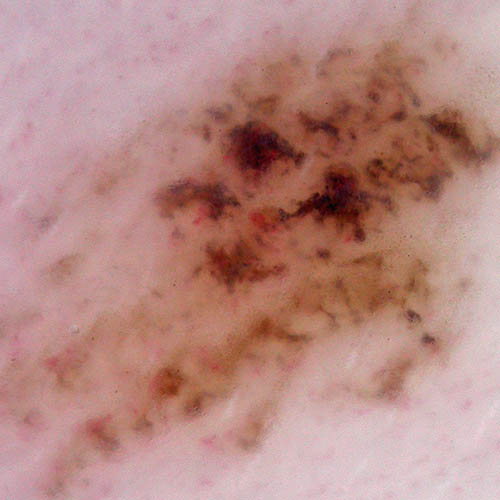 Dermoscopic Image
What are the ABCDE's of Melanoma?
Dermatologists use the ABCDE criteria to analyze moles and check for warning signs that may indicate a melanoma.
A - asymmetry
Normal moles are symmetrical in shape, meaning if you were to draw a line down the middle, both halves would look the same. Asymmetrical moles are abnormal and should be checked by a doctor.
The image on the left is an example of a symmetrical, benign mole. The image on the right shows what an asymmetrical mole looks like. The two sides of the mole do not match.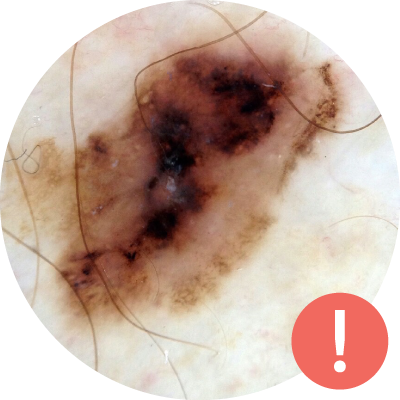 B - borders
Blurred, jagged, or irregular borders are a sign that the mole could be cancerous. If the edges of your mole are uneven, it is good to have it checked out by a doctor.
The image on the left shows a mole with defined borders while the mole image on the right has irregular and uneven borders.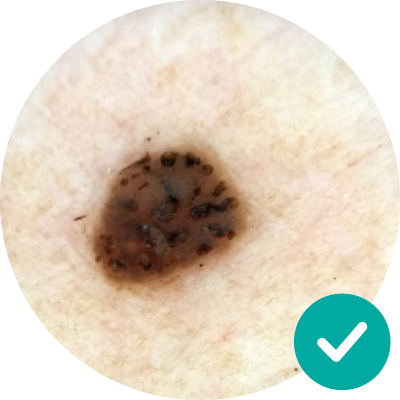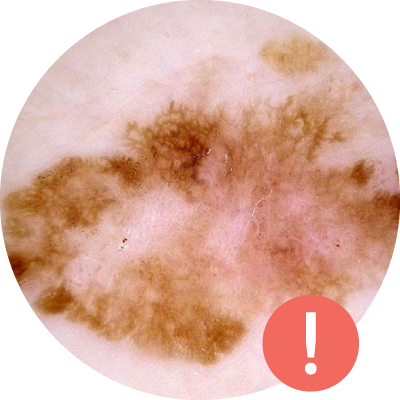 C - colours
Colour can help distinguish a normal mole from an abnormal one. Healthy moles usually have one even colour, while irregular moles can contain multiple shades of colour. It is also important to make note of any blue or white colours that may be present in your moles, as this is a sign that the mole may be cancerous. If your mole has multiple colours or shades, you should speak with your doctor.
The mole in the left image is monotone and is healthy. The image on the right contains multiple shades of red and is cancerous.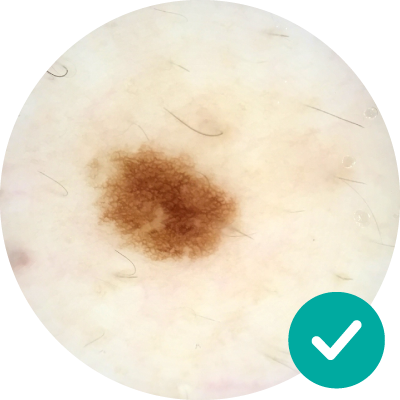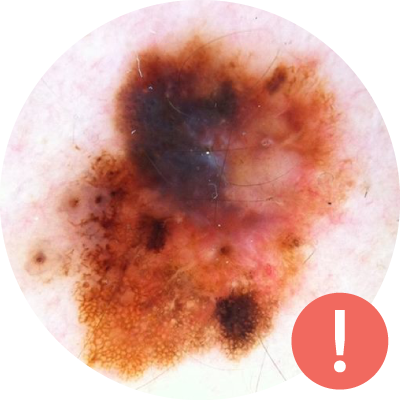 D - diameter
In general, if a mole is larger than 6 mm, it is a warning sign, and should be checked by your doctor. As a reference, this is about equivalent to the eraser at the end of a pencil. Even if a mole is smaller than this, it may still be dangerous, so it is important to look for other signs as well.
The image on the right is larger than 6 mm and is cancerous.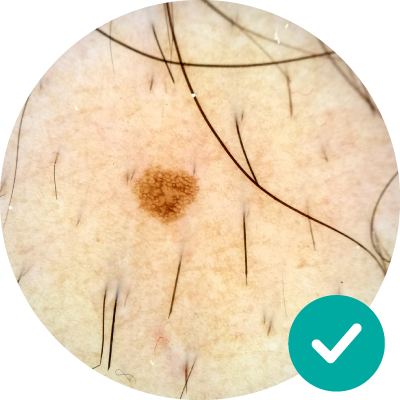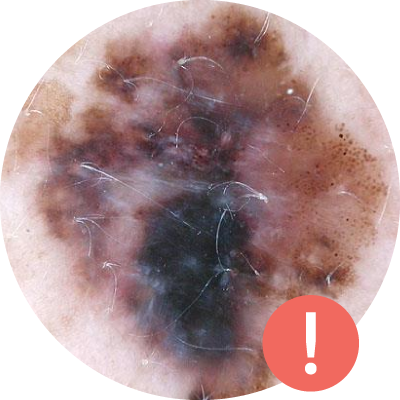 E - evolution
Noting any changes with respect to size, shape, colour, or features is an important factor in catching cancer early. If your mole develops symptoms like itching, tenderness or bleeding, or is evolving in any way over time, this is a warning sign to seek medical attention immediately. This is why it is important to not only check your moles regularly, but also to look for any changes that may have occurred since the last self-check you performed.
The image shows the evolution of a mole over time. While not every mole will evolve, or evolve in the same way, even minor changes are important to track and share with your doctor.