New Month: New Skin Check
The MetaOptima Team | Mar 22, 2018 |
MoleScope
Melanoma
SkinCancer
SkinCheck
Today is the first day of May, signalling the start of Melanoma Awareness Month. What does skin cancer awareness make you think of? Perhaps applying a healthy dose of sunscreen, covering up from the sun when possible, or spreading information about skin cancer awareness.What about performing a monthly skin check?
What Is A Monthly Skin Check?
A monthly skin check is exactly what it sounds like- it's an opportunity to examine your skin to look for any suspicious signs or changes. Although we may look at our skin every day, this quick exam provides you with a much more detailed look at how your skin is doing from your head to your toes. Since 70% of skin cancer cases are found by patients, not doctors, it is important to get to know your body and look for any new or changing lesions.
Skin Cancer: The Facts
Studies show that skin cancer is the most common form of cancer diagnosed in Canada, with more cases each year than breast, prostate, lung, and colon cancers combined! Unfortunately, the number of cases across Canada have been continually increasing by ~1.4% over the last 20 years.
Studies show that the survival rate of melanoma (the deadliest form of skin cancer) when detected early is 98%! However, this drops to less than 16% if diagnosed in later stages. It's important to remember that early detection is key!
Monthly skin checks are only one asset in your toolbox to help you achieve this goal this Melanoma Awareness Month and beyond! For example, visiting your doctor for professional skin checks, educating yourself on the signs and symptoms of skin cancer, and spreading awareness are all valuable methods for keeping you and your loved ones healthy!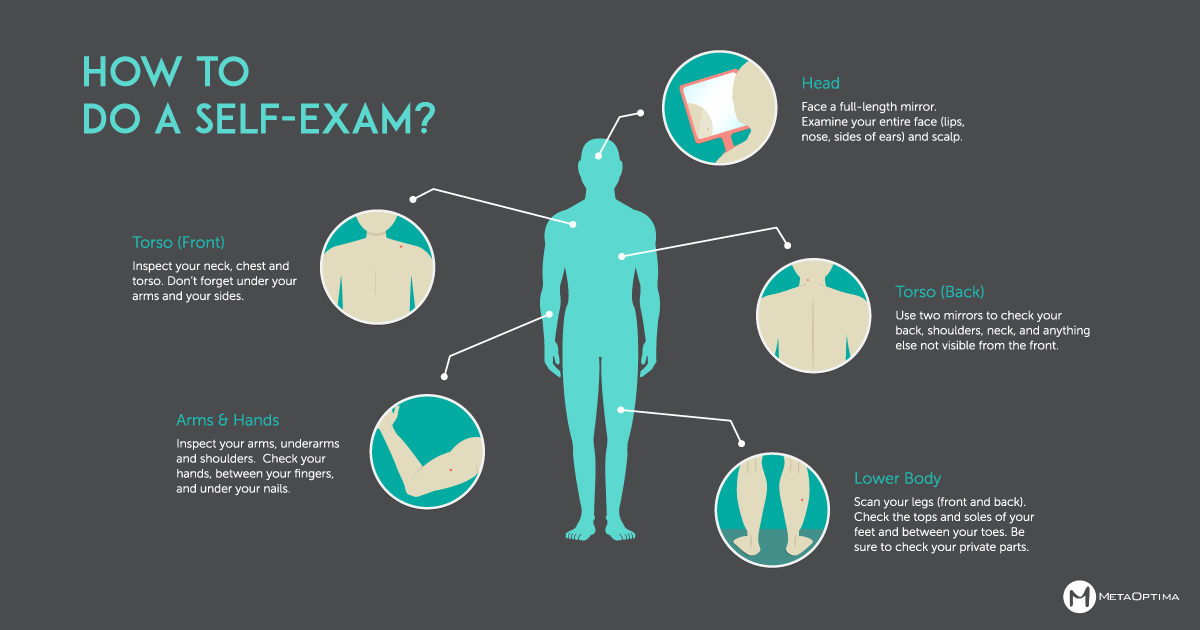 Getting Started With Your Skin Check
The first time you examine your skin, spend some time learning the patterns of your moles and freckles to better compare and track any changes. Each time you perform a self-examination, carefully go through the following steps. To get started you will need: a full-length mirror, a hand-held mirror, a blow dryer, a chair or seat to sit on, and a well-lit area.
1. Begin by facing the full-length mirror. Examine your face carefully, ensuring to check the lips, mouth, nose, and both sides of your ears.
2. Inspect your neck, chest and torso. Women: check the skin underneath each breast. Ensure to lift your arms and check the sides of your upper body as well.
3. Face away from the full-length mirror, holding the handheld mirror. Examine your back, shoulders, and back of your neck.
4. Continue down your body and examine your buttocks and the backs of your thighs.
5. Sit on the chair. Scan your legs, using the handheld mirror to look at the back of each leg. Check the tops and soles of your feet, the spaces between your toes, and underneath your nails.
6. Use the handheld mirror to check your genitals and the insides of your thighs
7. Bend your elbows and carefully inspect all sides of your arms, shoulders and underarms.
8. Thoroughly inspect the tops and palms of your hands. Check in between your fingers and underneath your nails


Congratulations! You just completed your skin check!


As time goes on, you'll get the hang of it and be able to notice any subtle changes- there are a wide variety of resources to support you! For example, why not have a loved one help you with your skin check? There are also easy-to-use mobile dermoscopes designed to help you take magnified images of your skin and send them to your doctor for feedback (if available in your region). With the beginning of summer coming up fast, Melanoma Awareness Month is the perfect time to start your skin checks. This way, you can enjoy the beginning of Spring, spread awareness, keep your loved ones healthy and experience peace of mind!


-The MetaOptima Team
Interested in learning what else you can do to keep your skin happy and healthy this Skin Cancer Awareness Month? Click here!
Are you a medical professional interested in learning about the latest in mobile dermoscopy and intelligent dermatology software? Visit www.dermengine.com